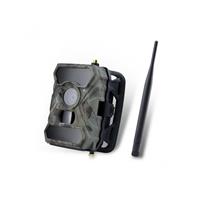 TRAIL CAMERA 3G 3.0CG Camera / Photo transmission E-MAIL or MMS / Night Vision / 12MP / HD 1080p
3.5G camera trap
Wishlist
- Generated phototrap of 3G module for remote control via SMS and to receive images taken in real time via MAIL or MMS.
Availablity:
Not Available
Quantity: 0
Phone purchasing at (+39) 333 5645324
Fast shipping for available items
Description
- Ideal for hunting or observation of animals, for security video surveillance, it is automatically activated when the sensor detects movements.
- Security with password, once the password has been set you will not have to worry about the use of the machine by others.
- Fast shutter speed of only 0.4 seconds.
- The battery lasts from 4 to 6 months in standby mode.
TECHNICAL FEATURES
Screen size: 2.0 "color TFT RGB which will allow you to view the results obtained in the field
Image sensor: 12.0 MP resolution
Memory: SD-card (not included) up to 32GB
PIR sensor angle: 110 °
Camera sensor angle: 100 °
Number of LEDs: 56 IR LEDs
Night lighting distance: 20 meters
Shutter time: 0.4 s
Image resolution: 12 MP / 8 MP / 5MP programmable
Multi-shot: from 1 to 5
Trigger interval can be set from 0 seconds to 24 hours
Video resolution: 1920 * 1080P 30 fps; 1280 * 720P 30 fps; 640 * 480p 30 fps
Power supply: 8 AA batteries or external 12V battery (not included in the package)
Print on photos of temperature, date and time
Waterproof: IP54
Languages: Italian, English, French, German, Russian, Swedish, Polish
CONTENT OF THE PACKAGE
photo trap
mounting strap
antenna
USB cable
Video cable
instruction manual
SUGGESTION
It is recommended to set all data in trial mode before using the camera.
WARNING! USE ONLY SIM TIM, VODAFONE, WIND
The product is covered by a two-year Italian warranty.
to do: attachments