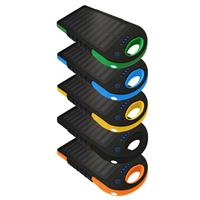 12000mA Power Bank with Solar Panel and LED Light
Availablity:
Available
Quantity: 18
Phone purchasing at (+39) 333 5645324
Fast shipping for available items
Description
12000 mAh solar charger with integrated lithium polymer battery, can charge the most part of the smartphone for 4/5 times.
Equipped with 1 USB port that allows you to charge the phone in about 2 hours.
Equipped with Constant LED side light and front light (25 LEDs) that works in Constant, Light and SOS mode.
FEATURES
Dimensions: 16.5 x 9 x 2 cm
USB cable: supplied
Weight: 258g
to do: attachments