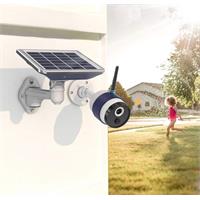 FREECAM WIFI Camera powered by Solar Panel
Wishlist
FREECAM WIFI Camera powered by Solar Panel
Automatic activation Wireless security camera with PIR motion sensor and night vision for outdoor use
Phone purchasing at (+39) 333 5645324
Fast shipping for available items
Description
FREECAM WIFI Camera powered by Solar Panel designed to be installed in areas where there is no power connector. Whether they are a construction site, a garden, a house, a court and many other places. Also very suitable for the surveillance of animals in buildings or cellars not illuminated with doors or windows.
Thanks to the solar plate, the camera provides external control even with its own energy and can thus send a video signal and images, day and night. Even the WiFi connection requires no cable to transfer the sound and images to your smartphone.
The camera can also store images and videos without Wlan connection by inserting an SD card up to 32 GB. Thanks to the cloud service, images can be transferred to the Internet and can be downloaded from here.
The 720p HD image ensures clear images and can be monitored even at night thanks to infrared LEDs for a field of view up to 10 meters away. Ideal for security service, protection or buildings, security services, monitoring.
The chamber has a 90 ° rotation angle. The camera size is 188 mm. x 80 mm. x 142 mm. The solar panel is 154 mm in size. x 144 mm. x 40 mm. Install a new safety standard in your home or apartment.
TECHNICAL SPECIFICATIONS
Model: C340 Solar powered WiFi camera
Lens: 4mm / M12 / 70 degrees
Video: H.264 Encoding
Audio: Audio support one-way
WIFI: protocol support IEE802.11b / g / n (2.4GHz)
PIR motion detection: 15 feet (5 meters)
Night motion detection: thanks to infrared LEDs for a field of view up to 10 meters away
Battery charge indicator: APP support
Standard Solar panel: the maximum output current is 200mA @ 5.5 V, which varies depending on the intensity solar energy and angle of incidence.
Expandable storage space: maximum support of 32 GB Micro TF card
Standby time: 6800 mAh, up to 8 months based on 10 events per day.
Event recording: records up to 2500 events (30 seconds) without recharging. 8 hours of sunlight allows you to record 480 events every day.
Size: 188 * 80 * 142mm / 154 * 144 * 40mm
Net weight: Camera: 800g Pouer solar kit: 700g
Waterproof: IP65
to do: attachments