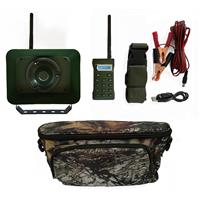 REPRODUCER / DISSUASORMP3 - 60W with remote control at range 200m with programming timer on / off device
Availablity:
Available
Quantity: 1
Phone purchasing at (+39) 333 5645324
Fast shipping for available items
Description
Powerful and Faithful Sound, new generation remote control with illuminated LCD display, numeric keypad, very powerful and above all reliable, guaranteeing over 200 meters.
FEATURES
- 60W 160db internal speaker.
- Already present External memory "Micro SD" of 512 Mb, possibility to memorize hundreds and hundreds of MP3s by connecting the device via the supplied USB cable.
- N ° 1 connection (Jack) 12V for external speakers.
- Internal programmable TIMER ON / OFF, it is possible to program the time for switching the device on and off.
- Remote control dimensions: 9.5 x 4.8 x 2.4 cm
- Bollard dimensions: 14 x 9.5 x 9 cm
MIMETIC HOUSING CONTENT
- 1 Remote Control with LCD Display (range 300m)
- 1 Bollard with LCD Display
- 1 Cable with Terminals for 12 V connection (4 mt)
- 1 USB cable
- 1 Shoulder Strap for Camouflage Case
- Instruction Manual in Italian
to do: attachments