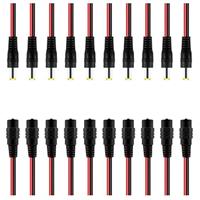 20 DC power connectors Jack with 50 cm cable length (10 female jacks +10 male jacks) for CCTV Camera, Strip LED lights
Connectors
Wishlist
SPECIFICATIONS
-DC plug: 5.5 mm * 2.1 mm
-Total length: 50 cm
-Wire gauge: 26AWG
-Current: 5A (12V)
-Operating temperature: from -20 ° C to + 90 ° C
-Polarity Common: red (positive) / black (negative)
-Wire material: pure copper core
-Plastic material: PVC plastic
Availablity:
Available
Quantity: 17
Phone purchasing at (+39) 333 5645324
Fast shipping for available items
Description
-Safe and Fast Transmission: the spiral cable of the cylindrical connector, 25 cm of 100% copper tail, simple, reliable, safe and fast transmission. The pigtails of DC power cables are easy to connect to power and welding to provide a safer do-it-yourself solution for use with power adapters or power boxes.
-High Quality: Optimized Fine Copper Cables Well Built Truss Power Socket DC pre-installed jack provides a simple and safe DIY solution for DC power connectivity, works with a power adapter or a power supply.
-Simple installation: easy to install, since the ends of the DC power cables are pre-tinned making them extremely easy to weld and have two wires on the other junctions of red black wire that indicate polarity.
-Wide Compatibility: Easy DC Power solution, compatible with all CCTV systems and other 2.1 * 5.5 mm DC power devices such as partial lighting or LED strips.
-Package: 10 pairs 12V (male + female), DC braid cable.
to do: attachments