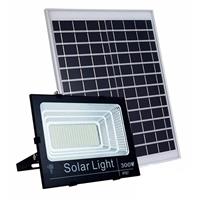 LED Headlight brightness of 15000 lumens, 300 watts, rechargeable via the supplied 11 V 40 W solar panel.
8 hours of continuous lighting and built-in light sensor.
Availablity:
Not Available
Quantity: 0
Phone purchasing at (+39) 333 5645324
Fast shipping for available items
Description
LED headlight, brightness of 15000 lumens (up to 250 square meters), 120 ° lighting angle, 300 watts.
Built-in high quality 6.4V 24000 mAh lithium battery, rechargeable via supplied 11V 40W solar panel, recharge times 4-6 hours (depending on panel exposure)
8 hours of continuous lighting, lightning protection, IP67 waterproof, suitable for outdoor use in all conditions
extreme climatic conditions throughout the year.
Twilight sensor, the lighthouse at sunset turns on and off at dawn to charge.
Remote control with various functions: light switching on / off, lighting time setting 3/5/8 hours, partial or total lighting of the light beam and twilight activation.
Can be used as a safety light or landscape light for construction sites, garages, courtyards, sidewalks, swimming pools, basketball courts, etc.
DIMENSION
Lighthouse: 32.5 x 26 x 8.5 cm
Panel: 66 x 35 x 3
to do: attachments