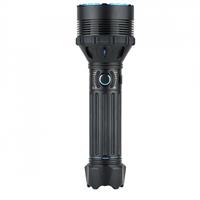 The X9R Marauder is the largest and most powerful flashlight ever produced by Olight, reaching incredible 25,000 lumens. The X9R is equipped with six Cree XHP70.2 LEDs and is powered by a rechargeable battery pack that combines eight 18650 high discharge capacity batteries. The proprietary heat dissipation system ensures that the torch provides a high, constant and safe output. The output is controlled by a side switch surrounded by 8 blue indicators on each side which show the output level, the remaining battery capacity or the charging status. Ergonomically shaped finger grooves ensure a comfortable grip regardless of the size of the hands that will hold it. This high-performance flashlight is delivered in a large carrying case that includes a charging cable and a comfortable shoulder strap for carrying it comfortably.
- Maximum power: 25,000 lumens; Depth: 630 meters
- 8 blue LED indicators on the side switches
- Intelligent sensor system
- Full charge in 4 hours
- Efficient system for heat dissipation
- The ergonomic recesses for the handle guarantee a safe and ergonomic grip
Availablity:
Available
Quantity: 1
Phone purchasing at (+39) 333 5645324
Fast shipping for available items
Description
UNIQUE FEATURES
- Maximum level of brightness ever produced before it reaches a maximum power of 25,000 lumens.
- Intelligent output control to prevent overheating - Proximity sensors that automatically release the output when the torch head approaches a nearby object. Active thermal management system that reduces the output when the temperature becomes too hot to avoid damage or overheating.
- Battery level indication while indicating an 8-level output selection.
- Improved integrated heat dissipation system design for more effective cooling of the torch body.
- Ergonomic design - Milled grooves for fingers, shoulder strap and hidden strap hole for convenient and comfortable use.
- Battery balancing: the battery protection card can balance the power of the individual cells to maximize the performance of the entire battery pack and also increase the longevity of each cell.
GENERAL DATA
-Distance of the beam (m): 630m
-Max. Performance (Lumen): 25000
-Charging type: DC adapter
-Batteries compatible: Personalized lithium-ion battery
-Light Intensity (candle): 99200
-Operating mode: Side switch
-Series: Baton Series (Camping, Hiking, Mountaineering and Home
LIGHTING LEVELS
LEVEL 1 = Lumens: 25000 lumens (~ 6400lm) / Duration: 1h40m (3m).
LEVEL 2 = Lumens: 12800 lumens (~ 6400lm) / Duration: 1h30m (10m)
LEVEL 3 = Lumens: 6400 lumens / Duration: 2 hours
LEVEL 4 = Lumens: 3200 lumens / Duration: 4 hours
LEVEL 5 = Lumens: 1600 lumens / Duration: 8 hours
LEVEL 6 = Duration: 800 lumens / Duration: 12 hours
LEVEL 7 = Duration: 400 lumens / Duration: 19 hours
LEVEL 8 = Duration: 200 lumens / Duration: 27 hours
STROBE: Yes
SOS: No
BEACON: No
TECHNICAL FEATURES
Waterproof: IPX7
Weight: 1855g
Length: 12.6in / 320mm
Width: 3.94in / 100mm
Height: 2.24in / 57mm
Led: 6 x Cree XHP70.2
Use: Hunting, tactics, search and rescue etc.
Package Content: Olight X9R x 1
Shoulder strap: x 1
Wall power supply: DC 16.8V 2A x 1
Car charger: DC 16.8 V 1.5 A x 1
Instruction manual: x 1
to do: attachments