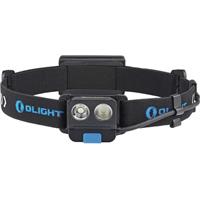 - OLIGHT H16 LED Floodlights 500 Lumens, 3 brightness levels available (500/100 / 5 lumens).
- Rechargeable with battery.
Availablity:
Not Available
Quantity: 0
Phone purchasing at (+39) 333 5645324
Fast shipping for available items
Description
- With parallel 2 * Cree XP-G3 LEDs that generate a combined beam for diffuse and concentrated lighting, the H16 has a maximum power of 500 lumens with 3 available brightness levels (500/100 / 5 lumens).
- The H16 wave represents the new generation of OLIGHT rechargeable intelligent LED projectors that can use manual activation of wave movement.
- The built-in high capacity rechargeable LiPo battery supports up to 25 hours of autonomy. The battery pack is located on the back of the strap for convenient weight balance with the LED system on the top.
- The battery pack is recharged via a Micro-USB port which has four visual battery level indicators with a 10% battery beep to alert the user that it will shut down soon.
- The H16 Wave lighthouse is an excellent choice for maintenance, night cycling, fishing, mountaineering and any other outdoor activity that requires light without removing the function.
to do: attachments