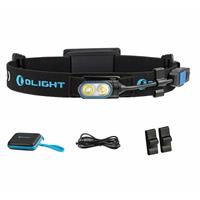 - Headlamp Olight HS2 Compact 400 Lumens, 2 brightness levels available (400 / 50 lumens).
- Rechargeable lithium battery Long life at 2000 mAh, up to 18 hours.
Availablity:
Not Available
Quantity: 0
Phone purchasing at (+39) 333 5645324
Fast shipping for available items
Description
- Large lighting area: 400 Lumens 2 available brightness levels (400 / 50 lumens), can offer low-beam light (light for near), high beam light (far light) and combined combined beam of both.
- Long life: the rechargeable lithium battery built at 2000 mAh is able to accommodate up to 18 hours
- Also powered by USB: while the battery power is depleted, it can also be recharged from the power source via the USB port.
- Intelligent indicators: Indicator of 4 levels of battery capacity and warning level below 10%, makes you well aware of the remaining energy.
- Gradual variation of brightness: when you activate / deactivate / change modes, the brightness gradually changes to protect your eyes from the stimulation caused by the change in light intensity.
to do: attachments