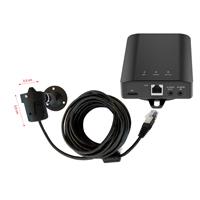 2MP FULL HD CYLINDRICAL MICRO CAMERA WITH AUDIO INPUT AND OUTPUT - 12V POE
POE Cameras
Wishlist
CYLINDRICAL MICRO CAMERA Full HD 2Mpx POE 12V with Video Resolution 2304 x 1296. MINI NVR with Slot for Micro SD maximum capacity up to 512Gb, Audio input and output for Microphone. Direct connection on your Smartphone via the free "BitVision" application.
- FULL HD 2Mpx POE 12V with 8Mt cable
- AUDIO Microphone input and output
- NVR Slot for Micro SD up to 512Gb
- Maximum video resolution: 2304 x 1296
- MICRO CAMERA size: 3.5 x 2.5cm
- MINI NVR size: 10.5 x 8 x 2.5cm
Availablity:
Available
Quantity: 5
Phone purchasing at (+39) 333 5645324
Fast shipping for available items
Description
TELECAMERA
Sensore d'immagine: Sensore CMOS retroilluminato Starvis da 1 / 2.8 "
Risoluzione: 2MP 1080P
Pixel efficace: 1945 (H) * 1097 (V)
Compressione: H.264 / H.264 + / H.265 / H.265 + / JPEG / AVI
Sistema: TVPAL / NTSC
Tempo di otturazione elettronico Auto: PAL 1 / 25-1 / 10000Sec; NTSC 1 / 25-1 / 10000Sec
Minimi di illuminazione: 0,005 Lux
Rapporto S / N: = 52d
Sistema di scansione: Progressivo
Uscita video: Rete
Tasto reset: Supporto
LENTE
Lunghezza messa a fuoco: Obiettivo a foro stenopeico da 3,7 mm / 82 ° (F2,8) con cavo 8Metri
Focus: FocusFisso
Tipo di obiettivo: Fisso
pixel: 3M
RETE
Ethernet: RJ-45 (10 / 100Base-T)
Protocollo: TCP / IP, ICMP, HTTP, HTTPS, FTP, DHCP, DNS, DDNS, RTP, RTSP, RTCP, NTP, SMTP
ONVIF: Supporto ONVIF 2.4
P2P: SÌ, supporta il codice QR
POE: Interno, supporto IEEE 802.3af
Ritardo video: 0.3S (All'interno della Lan)
Stream principale: 12304 * 1296 @ 20fps
Stream principale: 21920 * 1080 a 30 fps
Stream principale: 31280 * 720 a 30 fps
Sottoflusso: 1720 * 480 a 20 fps / 720 * 480 a 30 fps
Tri Stream: 352 * 288 a 20 fps / 352 * 288 a 30 fps
IE Brower: IE8-11, Google Chrome (precedente alla Ver44), Firefox (inferiore alla Ver53), Mac Safari (precedente alla versione 12)
Smart Phone: iPhone, iPad, Android, Android Pad
CARATTERISTICHE DELLA FOTOCAMERA
Giorno notte: Colore / B&W
Config. Immagine: Saturazione / Luminosità / Contrasto / Nitidezza, Specchio, NR 3D, Bilanciamento del bianco, FLK (controllo dello sfarfallio), Manomissione video
Modello del corridoio: Supporto
Modalità Defog: Supporto
ROI: Supporto
BLC: Supporto
WDRWDR: 96 dB
Motion Detection: Supporto
Maschera sulla privacy: 3 Zona rettangolare
Modalità di registrazione: Scheda NVR / CMS / Web / SD
Linguaggio: italiano, inglese, bulgaro, polacco, persiano, tedesco, russo, francese, coreano, portoghese, giapponese, turco, spagnolo, ebraico, italiano, olandese, ceco, vietnamit, cinese semplificato, cinese tradizionaleInterfaccia
INTERFACCIA
Audio: Audio a 2 vie
Allarme: Ingresso allarme 1ch / Uscita allarme 1ch
Slot per scheda SD: Supporta massimo 512 GB
RS485: Supporto
GENERALE
alloggiamento: metallo
Staffa anti-taglio: SÌ
Filtro taglia IR: No
Temperatura di funzionamento: -20? ~ +60? RH85% max
Temperatura di conservazione: -20? ~ +60? RH95% max
Fonte di potere: DC12V ± 10%, 500mA
Dimensione: 104 (L) x 78 (W) x25,8 (H) mm
Peso: 780 g
to do: attachments