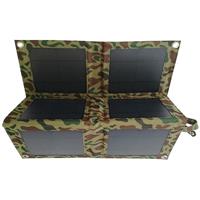 Portable Folding Solar Panel 18W - DC: 5V / 12V / 18V
Phone purchasing at (+39) 333 5645324
Fast shipping for available items
Description
- 18W panel that provides high recharge efficiency.
-1 5V USB output for charging Smartphones, tablets, GPS, MP3 players.
- 1 DC 12V output + 1 DC 18V output.
- The lightweight and foldable device resists weathering.
- 4 support eyelets to expose it optimally to sunlight.
- Robust housing in camouflage waterproof fabric for optimal protection.
FEATURES
Closed Panel Size: 19 x 17.5 x 5 cm
Dimensions Open Panel: 50 x 39 cm
Weight: 620g
to do: attachments