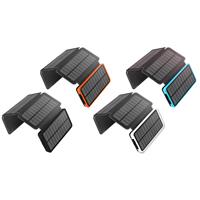 12000mAh Power Bank with Wireless Induction Solar Panel and LED Light
Availablity:
Available
Quantity: 6
Phone purchasing at (+39) 333 5645324
Fast shipping for available items
Description
Wireless induction solar charger for smartphones with wireless charging function such as:
iPhone X, iPhone8 / Plus, Samsung Galaxy S9 / S8 / S7.
12000 mAh capacity with integrated lithium polymer battery, can charge most smartphones 4/5 times.
Equipped with 4 solar panels, 3 of which are high efficiency folding, it can reach up to 1 A under the light, it is also possible to charge the phone.
USB 2.1 A ports Controls charging of 2 devices, controlled by an intelligent IC, which adapts to different devices. Most phones can be fully charged about 2 hours, the tablet is about 3 hours. The device turns off automatically when it is fully charged.
Equipped with LED light that works in Constant, Strobe and SOS mode: hold down the power button for the first mode, then press it in succession for the other 2 modes and then turn off all LED light functions.
FEATURES
Dimensions Closed: 15.5 x 8.5 x 3.5 cm
Dimensions Open: 35.5 x 15.5 x 2 cm
USB cable: supplied
Weight: 510 g
to do: attachments