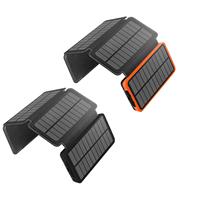 Power Bank 20000mAh with Solar Panel and LED Light
Availablity:
Not Available
Quantity: 0
Phone purchasing at (+39) 333 5645324
Fast shipping for available items
Description
20000 mAh solar charger with built-in lithium polymer battery, can charge most smartphones 9/10 times.
Equipped with 4 solar panels, 3 of which are high efficiency folding, it can reach up to 1 A under the light, it is also possible to charge the phone.
USB 2.1 A ports Controls charging of 2 devices, controlled by an intelligent IC, which adapts to different devices. Most phones can be fully charged about 1.5 hours, the tablet is about 2.5 hours. The device turns off automatically when it is fully charged.
Equipped with LED light that works in Constant, Strobe and SOS mode: hold down the power button for the first mode, then press it in succession for the other 2 modes and then turn off all LED light functions.
FEATURES
Dimensions Closed: 15.5 x 8.5 x 3.5 cm
Dimensions Open: 35.5 x 15.5 x 2 cm
USB cable: supplied
Weight: 510 g
to do: attachments