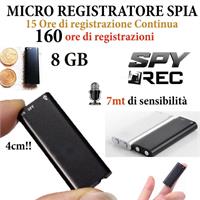 DEMONSTRATION VIDEO: https://www.youtube.com/watch?v=cvabhtBiG1w&t=0s
EASY HIDDEN
so small that it can be hidden anywhere just 0.5mm thick and 4 cm long.
QUICK RELEASE TIMES
only 20 minutes of charging to ensure that it is fully charged (it must be recharged on the USB port of the PC)
LISTEN TO PLUG & PLAY OR HEADPHONES
Listening to recordings made in 2 modes:
1) with the aid of a PC, just connect the device to the PC via the USB cable supplied and open the file using an Audio file reading program, otherwise we recommend downloading "VLC Media Player" for free, available for both Windows and Mac versions OS.
2) through headphones you can listen directly from the recorder.
Availablity:
Available
Quantity: 189
Phone purchasing at (+39) 333 5645324
Fast shipping for available items
Description
The smallest recorder in the world, only 4 cm long and 0.5 mm thick !!
Wide autonomy up to 15 hours of recording and 8 GB of space for file storage that can hold about 160 hours of recordings thanks to the classic bug always used by investigators and law enforcement, but this time revised under all points of view, especially from its micro dimensions, and from the construction quality, the device is entirely in metal, which is very rare in such small devices, another aspect that is absolutely important is the recharge times, as it is recharged in just 20 minutes! and is immediately ready to be placed and have up to 15 hours of total coverage. It is equipped with a mini jack input useful both for charging and connection to the PC for data transfer or also useful for connecting a GSM bug to make it possible to record during calls, or to listen to recordings via the headphones Supplied. The audio quality is truly exceptional, the integrated microphone with high sensitivity allows you to perceive sounds and noises in the surrounding environment up to 7 MT, thanks to its very small size it is possible to hide it anywhere. Its weight is negligible and this also allows the concealment in a jacket, in a bag, and therefore exceptional especially for the control of minors and adolescents.
to do: attachments