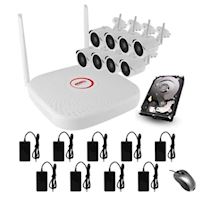 Wireless video surveillance kit consisting of eight 2MP 1080p IP cameras with outdoor metal case and 9-channel NVR recorder with 1 TB hard drive. Recommended for small businesses such as homes and / or offices, where it can be installed very easily and offer maximum performance. Cameras can be mounted both indoors and outdoors; you will be able to see the images shot live from your smartphone!
Availablity:
Not Available
Quantity: 0
Phone purchasing at (+39) 333 5645324
Fast shipping for available items
Description
Ideal for all those domestic installations where it is impossible to lay new wiring (electricity is still needed to power the cameras).
The kit consists of eight 2MP FullHD 1080p IP cameras with a metal case and a 9-channel NVR recorder with a 1 TB hard drive.
TECHNICAL SPECIFICATIONS
IP Camera SCRSE200W8: 2MP, outdoor metal case, night vision up to 30m, WIFI & ONVIF support
Effective pixels: 1985x1105
NVR SCRKT08PG1W: 9CH WIFI H.264
NVR video output: 1xHDMI / 1xVGA
Compression method: H.264
WIFI Range: unobstructed 100m Max.
Network interface: 1xWAN + 3xLAN (10M / 100M Adaptive Ethernet Interface)
Camera Input: 4xWIFI IP Camera + 5xONVIF Wired IP Camera (Max. 9CH IP Input)
Main Stream 1 1920 * 1080 @ 1-15fps (default resolution: 1920 * 1080 / frame rate: 15fps / bit rate: 2Mbps)
Sub Stream 1 720 * 480 @ 1-15fps (default frame rate: 15fps / bit rate: 0.5Mbps)
Tri Stream 354 * 288 @ (1-15) fps (default frame rate: 15fps)
Simultaneous operations: preview, recording, playback, live, backup
Static, Dynamic IP and DDNS, P2P, WIFI, Support IE and Special Client Software
Backup: 2xUSB2.0 (for example for U Disk, USB Drive) and Network
Remote viewing from smartphones with both Android and iOS applications
Remote viewing via CMS or IE
Power supplies: 1xDC12V2A for WIFI NVR, 4xDC12V0.5A for WIFI IP Camera
Video camera protection: IP66
NVR Size (L × W × H): 219 * 217 * 40 (mm)
PACKAGE CONTENT
1x WIFI NVR 9CH H.264 with 1 TB hard drive
8x IP Camera 1080P with 30m IR outdoor metal case
8x Power Supply for IP Camera WIFI DC12V / 0.5A
1x Power Supply for NVR WIFI DC12V / 2A
1x USB Mouse
1x assembly kit (screws etc.)
1x User manual
to do: attachments